Revive & Restore Hair Growth Duo
Powered by Neurocosmetics
Regular price

Rs. 2,499.00

Regular price

Sale price

Rs. 2,499.00
Shampoo | Serum 
Formulation crafted in the USA
Key Benefits:
Promotes hair density and strength

Increases total hair follicles per sq meter

Epigenetic Rebalance of Hair Growth Cycle

Enriched with natural extracts

pH balanced
Experience the combined power of Justhuman Hair Fall Therapy Shampoo and Burgeon Hair Growth Serum for an unrivaled hair care regimen that will exceed your expectations. This dynamic duo offers a synergistic approach to tackle hair loss, nourish your scalp, and promote the growth of strong, healthy hair. Discover the transformative benefits that await you when you harness the power of both products.
Product Description

The Hair Fall Therapy Shampoo's advanced formula with Capilia Longa works in harmony with the Hair Growth Serum's BURGEON-UP stem extract to promote hair density and strengthen each strand from root to tip. Witness your hair transform into a voluminous and resilient crown of glory.

Harness the power of nature with the natural extracts in both the Shampoo and Serum. Derived from stem cells in the Turmeric plant, Capilia Longa reactivates the scalp's dermal capilia cells in order to regenerate hair follicles at the source. Complete with ginger and ginseng root extract, our formula delivers essential vitamins, minerals, and fatty acids for added longevity and sustainable shine.

Sourced from the lush forests of Japan, BURGEON-UP stimulates hair growth protein R-spondin 1 while suppressing hair loss proteins DKK1 and IL-6. Complete with Stimucap to reduce inflammation and Kerashaft V to add texture and volume, our formula is the ultimate hair and confidence boost you've been waiting for.

Experience Unparalleled Results:Hair Fall Therapy Shampoo: Witness an average 15.3% increase in hair density and an impressive 53% reduction in hair loss after just 45 days of consistent use.

Hair Growth Serum: Within a short span of 30 days, enjoy remarkable improvements in hair volume, texture, and retention, with 85% of users experiencing significant transformations

Unleash the full potential of your hair with the perfect synergy of Justhuman Hair Fall Therapy Shampoo and Hair Growth Serum. Embrace the confidence that comes with a revitalized and radiant mane. Get ready to turn heads and make a statement with your luscious locks.

How to Use :
Apply few drops enough to cover your entire scalp. Massage all over, rinse hands after. Leave overnight. Next morning, rinse with the Hair Fall Therapy Shampoo for best results.
Focus Ingredients

Burgeon Up TM - 100% Plant based Stem cell ingredient that leads to active hair loss reduction, increase in number of hairs per sq mtr and drastic improvement in the quality of hair strands.

Stimucap - Anti Hair loss ingredient that reduces inflammation and promotes anti-ageing of the hair

Kerashaft V - Improves Hair texture and provides volume

Shampoo:

Capilia Longa : It is 100% natural active from plant stem cells of the rhizome of Curcuma longa, the Turmeric plant. This secretome is rich in signaling peptides specially designed to create the optimal micro environment to reactivate hair growth.

Green Coffee Extract : Its anti-oxidant properties help hair cells fight toxins keeping them healthy, strong and moisturised. The anti-microbial agents of green coffee oil deep clean the scalp preventing dandruff growth.

Ginger Root extract - Packed with vitamins, fatty acids and minerals ginger strengthens your hair and prevents hair loss.

Ginseng root extract - Properties of Ginseng improve hairs regeneration ability by stimulating blood flow to the scalp
All Ingredients

Purified Water, Burgeon Up ( Nasturtium Officinale Leaf / Stem Extract ) Kerashaft V ( Hydrolyzed Keratin ) Dowsil 193C Fluid ( PEG - 12 Dimethicone , EthylHexyl Glycerin and Phenoxyethanol, Stimucap ( Sodium DNA Potassium glutathione isomerized linoleate and Aqua ), Polyquaterium - 10 , Laminaria Digitata extract Cetyl Pg Hydroxyethyl Palmitamide and Ceramide 1 & Ceramide 2 & Ceramide 3 & ceramide 4 & Ceramide 6 , Citric Acid

Purified Water, Sodium Lauryl Sulfoacetate, Cocoamidopropyl Betaine, Sodium Cocoamphoacetate, Glycerin, Lauryl Glucoside, Sodium Cocoyl Glutamate, Sodium Lauroyl Lactylate, Sodium Lauryl Sarcosinate, Sodium Methyl Cocyl Taurate, Decyl Glucoside, Propanediol, Betaine, Sorbitol, PEG-7 Glyceryl Cocoate, Sodium Levulinate, Potassium Sorbate, Panthenol, Sweet Almond Oil Polyglyceryl-4 Esters, Zingiber Officinale (Ginger) Root Extract, Panax Ginseng Root Extract, Green Coffee Extract, Sodium PCA, Caffeine, Sodium Gluconate, Curcuma Longa (Turmeric) Callus Culture Conditioned Media, Pentylene Glycol, Phytic Acid, Citric
Acid, Fragrance

We DON'T include (ever):

Sulphates, Parabens, Toxic Chemicals (Hydroquinone, Benzoyl Peroxide, Phthalates, Triclosan, Formaldehyde, Benzophenone, MIT, PHMB, D5, MCT, Mineral oil)
We've got your back

Free Shipping on all prepaid orders - Skip the hassle, ship for free - Go Prepaid! COD's cool too, for just Rs 100 more

Secured checkouts - Your Security is Our Priority - Checkout with Confidence

Quality you can trust - We guarantee you'll love our product. If you don't, we'll make it right, faster than you can say 'Justhuman'!"

Customer support on your terms - Email or WhatsApp us anytime - we've got you covered!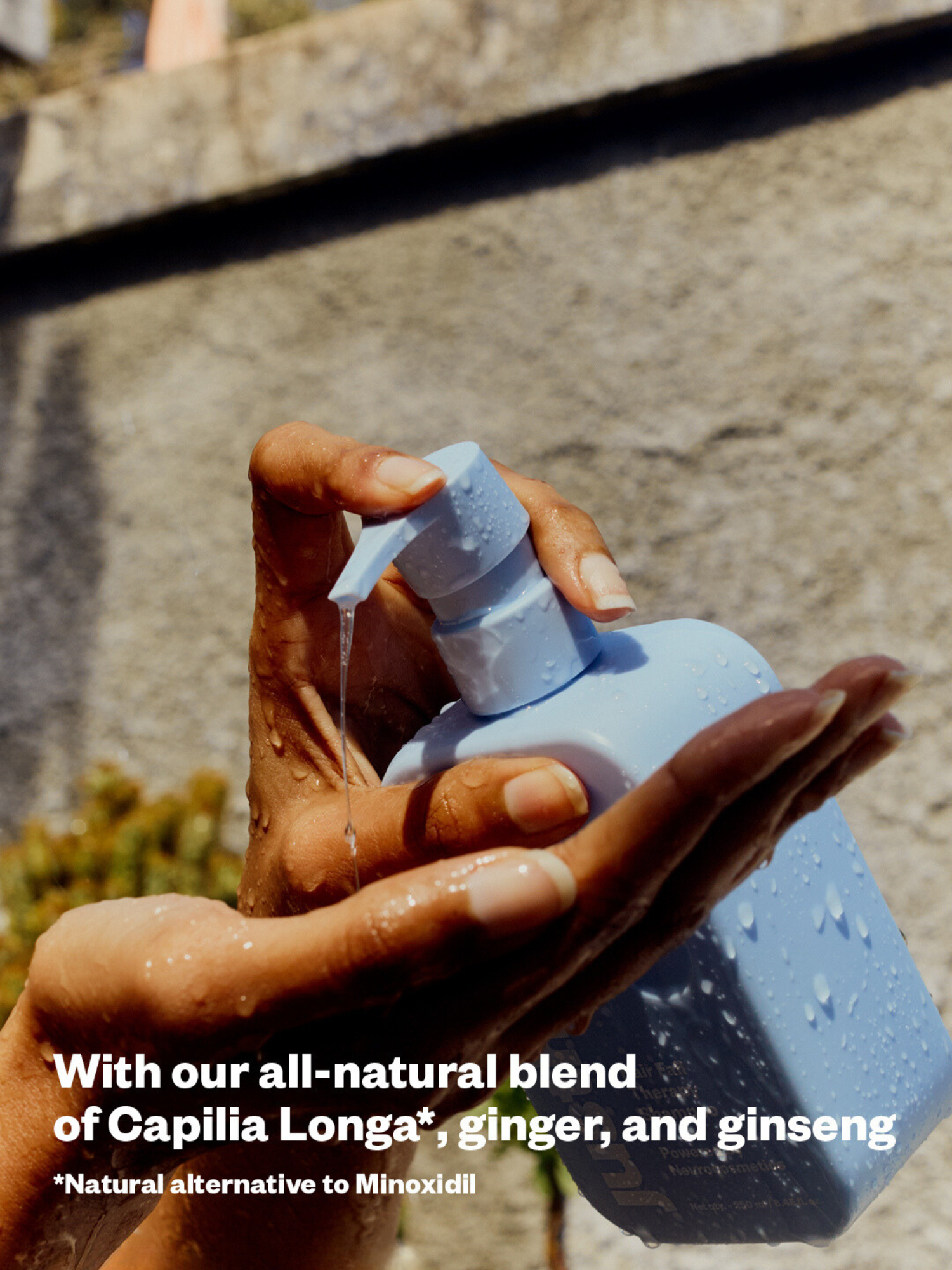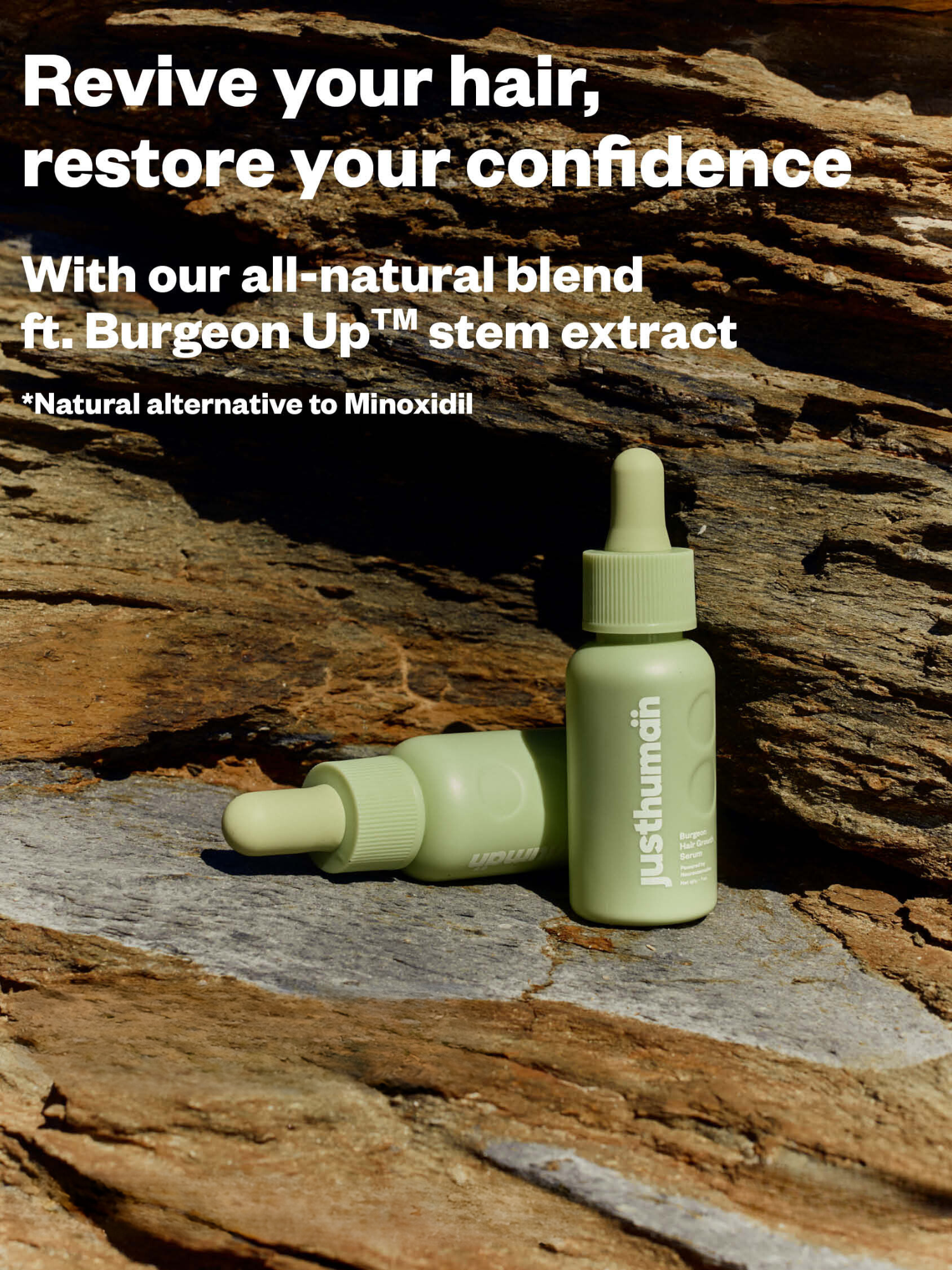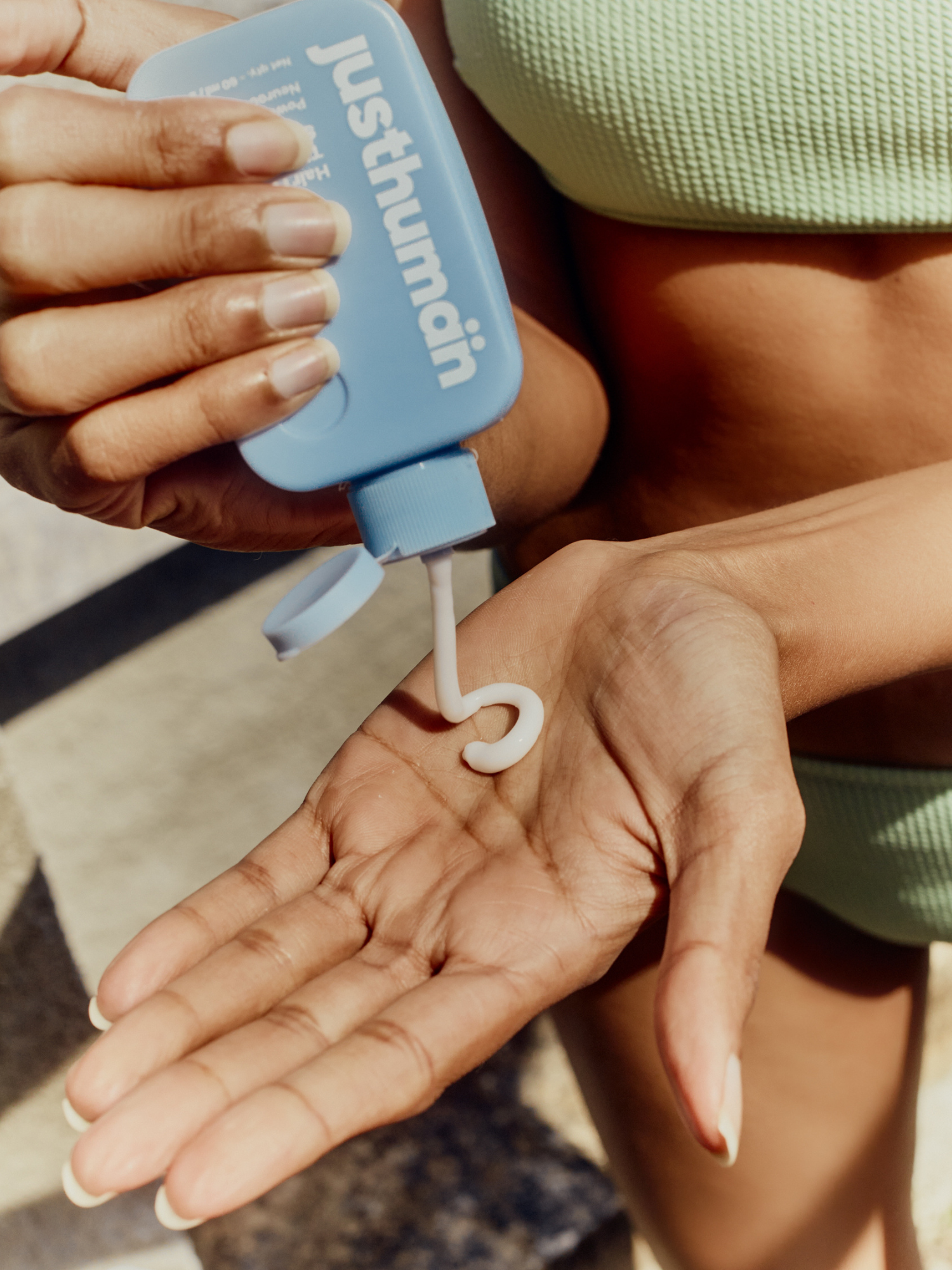 FAQ
Does the serum leave your hair oily post application?

Not at all! The Justhuman Burgeon Hair Growth Serum is formulated to be lightweight and non-greasy. When applied as directed, it gets absorbed quickly into your scalp and hair, leaving no oily residue. You can enjoy the benefits of the serum without worrying about any greasiness or heaviness.
Does the serum need to be applied only on the scalp avoiding the hair strands? Or should the hair strands be coated with the serum as well?

For the best results, we recommend applying the Justhuman Burgeon Hair Growth Serum directly to your scalp. Massaging the serum into the scalp helps to stimulate hair follicles and promote hair growth.
Do we need to apply this as a pre-post treatment or as an overnight leave in? Or does the serum need to be applied on freshly cleaned hair post shampoo?

Justhuman Burgeon Hair Growth Serum is versatile and can be applied in different ways based on your preference. For best results, we recommend applying the serum overnight. Gently massage the serum into your scalp and let it get absorbed for the ingredients to work their magic. However, if you prefer using it as a post-shampoo treatment, that's perfectly fine too. You can wash your hair with Hairfall therapy shampoo
How often should I use Justhuman Hair Fall Therapy Shampoo and Burgeon hair growth Serum ?

We recommend using Justhuman Hair Fall Therapy Shampoo for both women and men at least twice a week for best results. However , the Hair growth serum can be applied twice daily.
Is it a natural alternative to Minoxidil?

Our Hair Fall Therapy Shampoo contains Capilia Longa, a plant-based super ingredient which is a natural alternative to Minoxidil, letting us wave goodbye to harsh chemicals and artificial additives. With our all-natural formula, you'll achieve hair growth and reduce hair loss without compromising on Mother Nature's blessings. It's like a garden of goodness for your hair!

Is the shampoo and serum suitable for all hair types and skin / scalp types ?

No discrimination here! Our Hair Fall Therapy Shampoo and Burgeon hair growth serum suit all hair types, from straight to curly, and everything in between. So, no matter what kind of hair you're rocking, get ready for a fabulous transformation that will make heads turn! Even if you have sensitive skin or scalp , our products are formulated with love and care, ensuring a gentle and soothing experience. It's like a spa treatment for your hair, minus the hassle and with fabulous results!

The Justhuman Way
Clean Ingredients

Fast Beauty

Toxins Free

Cruelty Free