Coffee Caramel Body Scrub
Powered by Neurocosmetics
Regular price

Rs. 1,599.00

Regular price

Sale price

Rs. 1,599.00
Luxurious | Aromatic | Nostalgic
Key Benefits: 
Deeply exfoliates and softens

Alleviates water retention

Cellulite reduction

Brightens & tightens
Tired of feeling like your skin lacks luster?
Say goodbye to dull, dimpled skin and hello to radiant confidence with Justhuman Coffee Caramel Body Scrub.
This invigorating scrub not only exfoliates but tightens and tones, leaving your skin smoother and firmer than ever before. Wake up to the aroma of coffee and caramel and embrace the day with renewed vigor.
Your skin will thank you, and you'll step out with a bounce in your step, ready to conquer the world.
Product Description

Our finely honed blend of Coffee, Ground Brown Sugar and Olive Oil exfoliates, improves blood circulation, and reduces water retention for smoother, tighter, and brighter skin.

How to Use:
Scoop up a dollop of Justhuman's Coffee Caramel Body Scrub, slather it all over your body, and rinse off to reveal the smoothest, most irresistible skin you've ever had.

Focus Ingredients

Ground coffee beans: exfoliate, reduce water retention, and soften while targeting cellulite to achieve smoother, firmer, and more toned skin

Olive Oil: Deeply moisturizes for a soft, radiant glow and calms inflammation for a clear, refreshed complexion.

Ground Brown Sugar: awakens your senses with its sweet, earthy aroma, but also soothes and calms irritated skin with its anti-inflammatory superpowers

All Ingredients

Ground coffee beans, Olive Oil, Ground Brown Sugar, Natural Fragrance

We are passionate about what we DON'T include (ever):

Sulphates, Parabens, Toxic Chemicals (Hydroquinone, Benzoyl Peroxide, Phthalates, Triclosan, Formaldehyde, Benzophenone, MIT, PHMB, D5, MCT, Mineral oil)
We've got your back

Free Shipping on all prepaid orders - Skip the hassle, ship for free - Go Prepaid! COD's cool too, for just Rs 100 more

Secured checkouts - Your Security is Our Priority - Checkout with Confidence

Quality you can trust - We guarantee you'll love our product. If you don't, we'll make it right, faster than you can say 'Justhuman'!"

Customer support on your terms - Email or WhatsApp us anytime - we've got you covered!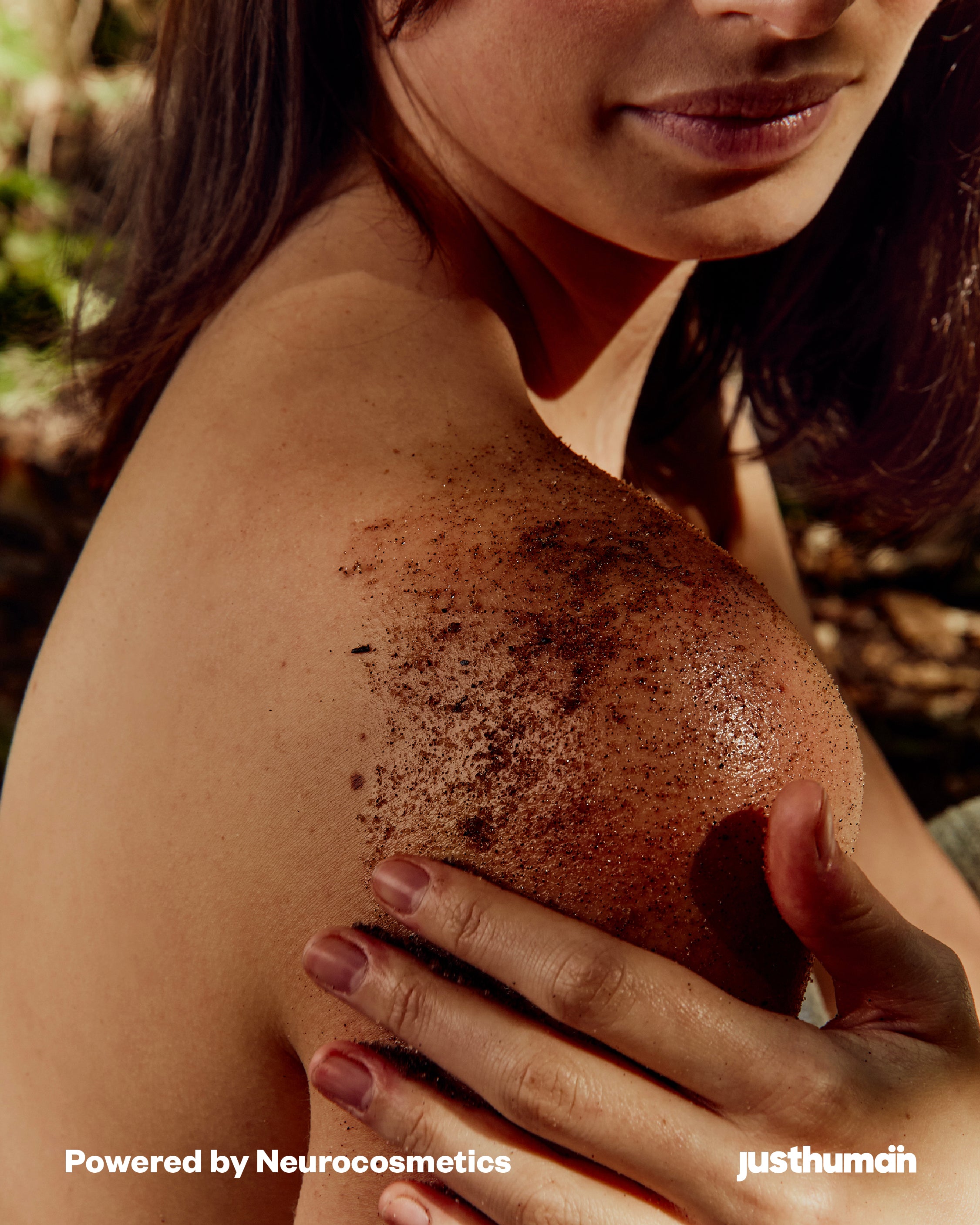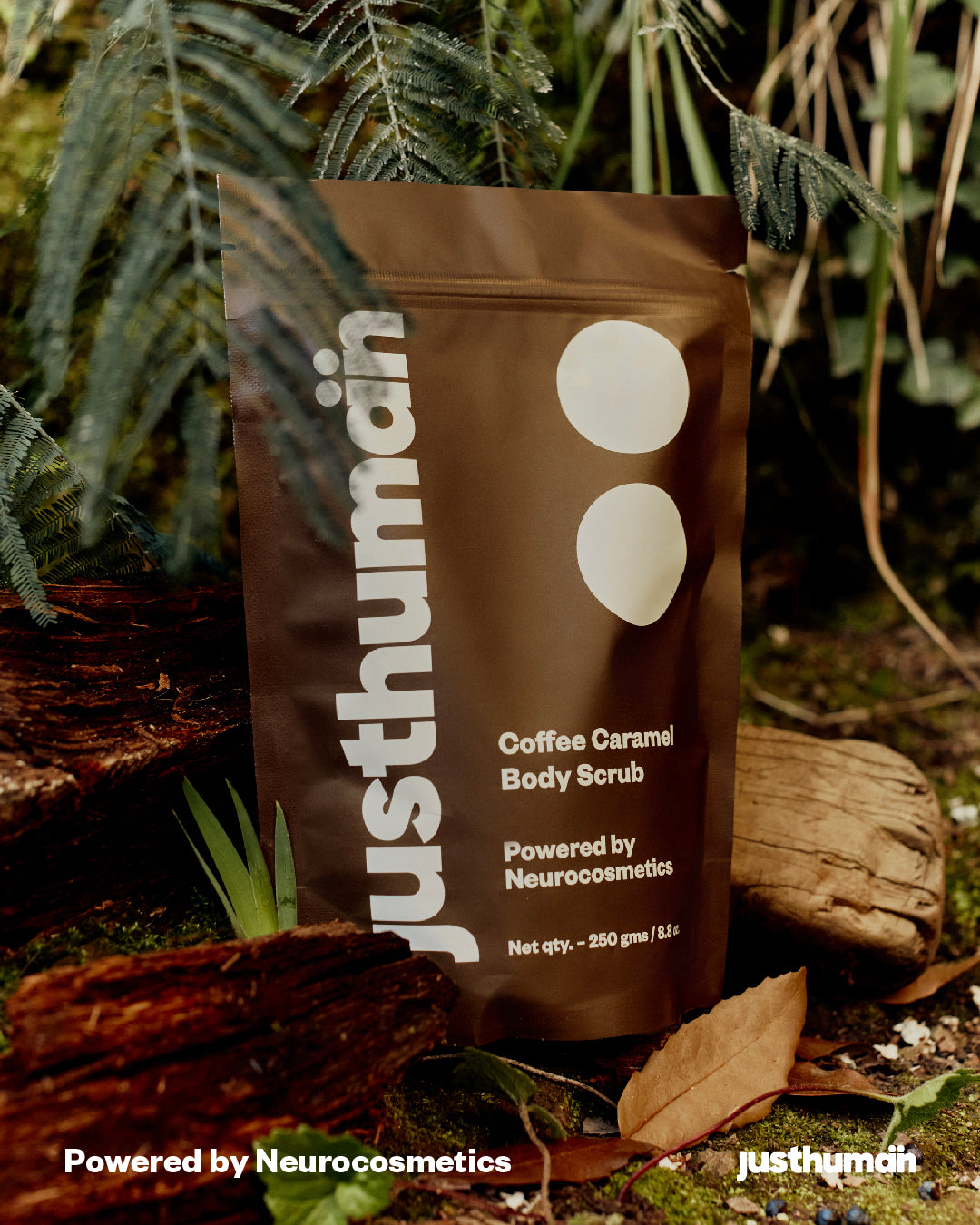 FAQ
What is a coffee caramel body scrub?

Oh, just the most divine exfoliating treatment you could ever imagine. It's a luxurious blend of
coffee grounds, sugar, and Olive oil that will leave your skin feeling smoother than a freshly shaven
dolphin.

How do I use a coffee caramel body scrub?

It's simple, really. Just wet your skin in the shower or bath, then get ready to get down and dirty.
Massage the scrub onto your skin in a circular motion, and watch as those dead skin cells slough-off
like the haters in your life. Rinse it off and voila, you're as fresh as a daisy!
What are the benefits of using a coffee caramel body scrub?

Well, aside from feeling like a pampered goddess, the caffeine in the coffee helps to stimulate
circulation and reduce the appearance of cellulite. Plus, the sugar and olive oil will leave your skin so
soft and moisturized, you will wonder how you ever lived without it.

Can I use a coffee caramel body scrub on my face?

The skin on your face is more delicate than a snowflake feeling. Body scrubs can be too harsh
and abrasive for your facial skin and can cause irritation or damage.

How often should I use a coffee caramel body scrub?

Well moderation is key. We recommend using it once or twice a week for maximum glowy skin
goodness. But don't get too crazy with it (it's difficult to avoid this, but try to)

Is coffee caramel body scrub safe for all skin types?

For the most part, yes. But you should always do a patch test before slathering anything all over
your body.

The Justhuman Way
Clean Ingredients

Fast Beauty

Toxins Free

Cruelty Free