Daily Morning Bliss
Powered by Neurocosmetics
Regular price

Rs. 3,349.00

Regular price

Rs. 3,547.00

Sale price

Rs. 3,349.00
Body wash | Shampoo | Conditioner
Formulation crafted in the USA
Key Benefits:
Brightens and hydrates the skin

Treats dandruff at its root cause

Balances the scalp microbiome

Rejuvenates senses

pH Balanced

Visible results in 7 days or less! 
Awaken with the aroma of our revitalizing body wash, with Salicylic acid and humectants which gently exfoliate, brighten and hydrate your skin every time you use it. 
Our anti dandruff range addresses the root cause of your flaky scalp, with Piroctone Olamine and Zinc Pyritheone  while the Probiotic Bacillus coagulans deeply nourishes and fortifies your hair, creating extra density and leaving you with smooth and shiny locks. 
Your Daily Morning Bliss. Get yours today. Also available in travel pack. 
Focus Ingredients

Revitalising Body Wash

Lemon balm (Melissa officinalis): mainly for its anti-inflammatory properties and skin lightening along with effective nourishment. Plant powered.

Holy basil (Ocimum tenuiflorum): works as anti inflammatory as well as soothing. Plant powered.

Salicylic acid: helps to exfoliate the skin as well as clears clogged pores and provides anti-inflammatory benefits.

D-Panthenol: helps to provide hydration to the body.

Shampoo And Conditioner

𝐏𝐢𝐫𝐨𝐜𝐭𝐨𝐧𝐞 𝐎𝐥𝐚𝐦𝐢𝐧𝐞 : is an all-natural ingredient that has antifungal properties that make it ideal for controlling the root cause of dandruff, a commonly occurring fungus called Malassezia globosa.

Bacillus coagulans: is a clinically validated Probiotic containing L(+) lactic acid producing microbial preparation from Bacillus coagulans, clinically proven to provide anti-inflammatory benefits and induce hair growth.

Panthenol: Long lasting moisturiser, improves lustre and sheen and prevents hair damage. It also thickens the hair.

Rosmarinus Officinalis (Rosemary extract): is a plant based ingredient with antioxidant and anti-ageing properties which increase blood circulation when applied to the scalp, helping the hair follicles grow.

Zinc Pyrithione: is an all natural ingredient that has antifungal properties that make it ideal for controlling the root cause of dandruff, a commonly occurring fungus called Malassezia globosa.

All Ingredients

Shampoo - Glycerin, Hydroxyethylcellulose, NA Lauroyl Methyl Isethionate, Sodium C14-16 Olefin Sulfonate, Coco-Glucoside,Glyceryl Oleate, Cocamide Dipa, Butyrospermum Parkii Butter, Isopropyl Jojobate, Jojob, Lactospore® 15 Billion, Anti Druff Cfl® Po Piroctone Olamine, Hydrogenated Polyisobutene, Panthenol, Hydrolyzed Wheat Protein, Potassium Sorbate, Sodium Benzoate, Rosmarinus Officinalis Ext,

Conditioner - Purified Water, Propanediol, Behentrimonium Chloride, Behentrimonium Methosulfate, Cetearyl Alcohol, Glyceryl Stearate SE, Isopropyl Jojobate, Jojoba Alcohol, Jojoba Esters, Butyrospermum Parkii (Shea) Butter, Hydrogenated Polyisobutene, Fragrance , Zinc Pyrithione, Hydroxyethyl Cellulose, Panthenol, Sodium Benzoate, Potassium Sorbate, Didecyldimonium chloride, Rosmarinus Officinalis (Rosemary) Extract, Bacillus, Hydrolyzed Wheat Protein

Revitalising Body wash - Anhydrous Betaine, AVT Lemon Balm Extract(5% Solution), CAPB, Coscare D-Panthenol, Cosphaderm Propanediol Natural, Cosphaderm X-34, Cosphagard POL, DM Water, Glycerin, Holy Basil Extract(5% Solution), Metaupon KMT 30 MB, Salicylic Acid, Serene care, Sodium Gluconate, Sodium Lauryl Sarcosinate, Sorbitol, Sucranov SF, Tapioca Starch.

We DON'T include (ever):

Sulphates, Parabens, Toxic Chemicals (Hydroquinone, Benzoyl Peroxide, Phthalates, Triclosan, Formaldehyde, Benzophenone, MIT, PHMB, D5, MCT, Mineral oil)
How to Use

How to apply:
It doesn't matter if you're waking up or winding down; a warm shower is always a good idea. Turn on the faucet, feel the heat, and breathe in that steam for instant relaxation.

Lather up
Once your hair is nice and wet, massage your Probiotic Anti Dandruff Shampoo into a luxurious lather and wash.

Apply Just Human Revitalizing Body Wash on damp skin, and massage into a cleansing lather.

Take a coin size amount of the JustHuman Anti Dandruff Conditioner on your palm and gently massage your hair. Leave on for 2-3 minutes.

Rinse and refresh.

We've got your back

Free Shipping on all prepaid orders - Skip the hassle, ship for free - Go Prepaid! COD's cool too, for just Rs 100 more

Secured checkouts - Your Security is Our Priority - Checkout with Confidence

Quality you can trust - We guarantee you'll love our product. If you don't, we'll make it right, faster than you can say 'Justhuman'!"

Customer support on your terms - Email or WhatsApp us anytime - we've got you covered!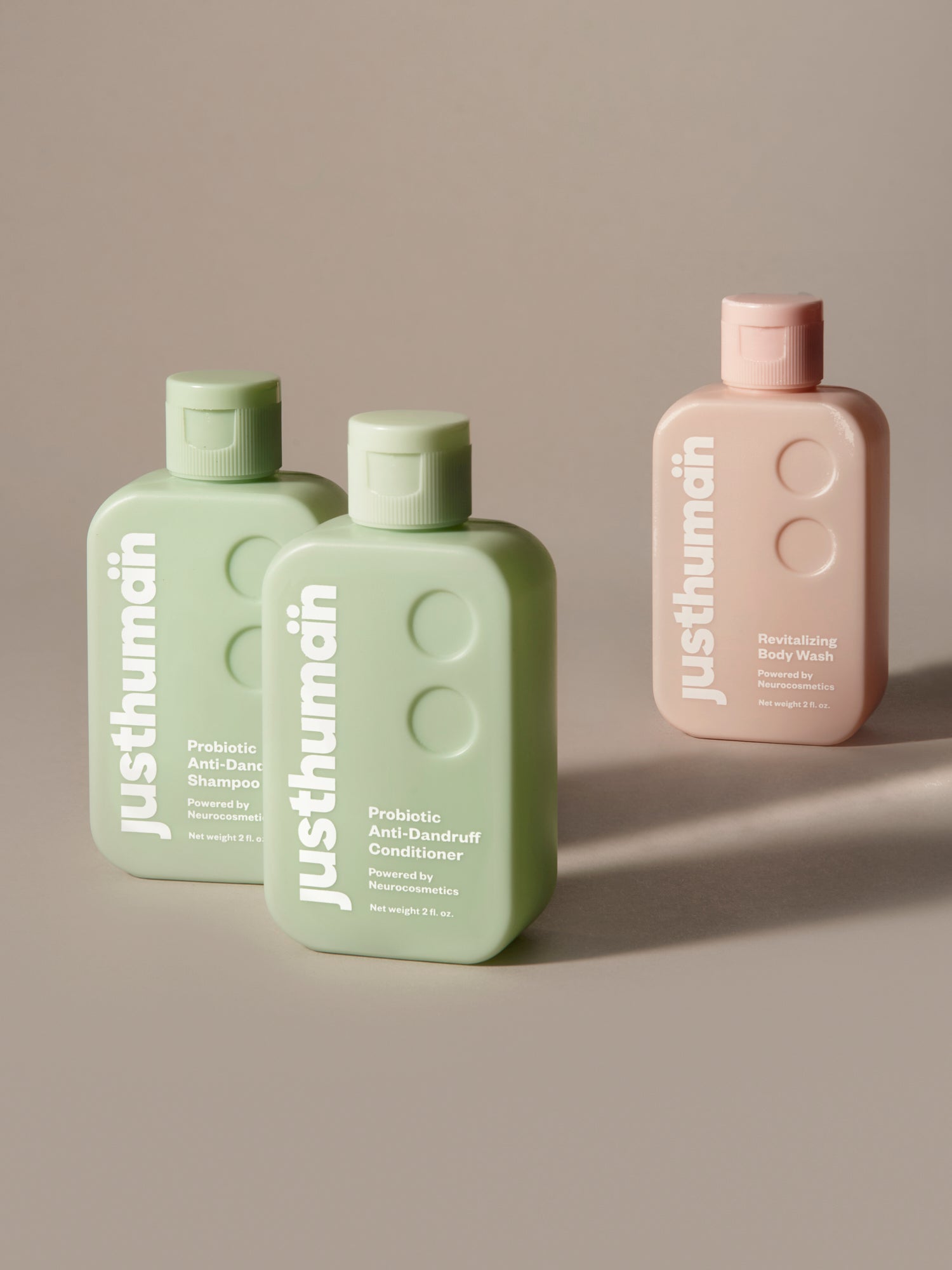 The Justhuman Way
Clean Biocompatible ingredients

The fusion of  natural and synthetic ingredients, which just work in symphony, to give the elevation you desire.

Fast Beauty

Infused with rich peptides and biotics, enabling effective skin brain communication and speeding up the process of looking good everyday

Toxins Free

We don't compromise. Ingredients that are not good for you, are simply not good for Justhuman.

Cruelty Free

We love animals and we believe they shouldnt pay the price for our vanity.